HIGHLY RECOMMENDED
The title of 'Five Guys Named Moe,' a musical now at Court Theatre, is based on the names of five performers, Big Moe (Lorenzo Rush, Jr.), Little Moe (Darrin Ford), Eat Moe (James Earl Jones II), Four Eyed-Moe (Kelvin Rosten, Jr.) and No Moe (Eric A. Lewis).
The doo-wop quintet are apparitions who emerge from inside a vintage radio to help young boozy, bluesy Nomax (Stephen 'Blu' Allen) get out of his funk.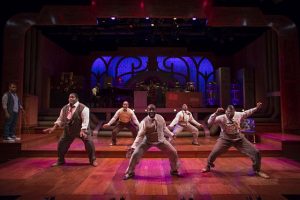 All five guys are energetic, funny, full of personality and have great singing voices.
They are backed up by an awesome, six-piece, jazz combo on stage: J.P Floyd (trombone), Sam Hankins (trumpet), Jarrard Harris (reeds), Ben Johnson (drums), Chuck Webb (bass), led by Abdul Hamid Royal (music director/pianist).
It reminded me of big-time nightclub performances seen "back in the day" at places like the Copacabana or Chicago's Empire Room.
The story-line couldn't be "moe thin," but the show, written by Clarke Peters, is an opportunity to revisit and explore the music of saxophonist and songwriter Louis Jordan.
His new approach to jazz in the 1940's helped pave the way to Rock & Roll with hits like "Caldonia" and the "Choo Choo Ch'boogie" piece that ran 35 weeks in 1946 as #1 on the "Race Records" chart.
If you are a fan of four piece harmony you'll love the five piece harmony of these five guys.
"Beware Brother Beware" and "I Like 'em Fat Like That" are songs that illustrate Jordan's musical philosophy of "playing for the people." He felt other jazz musicians of the day created music for themselves.
The five Moe's leave it all on the stage moving quickly and seamlessly from one number to the next as perfectly choreographed by Christopher Carter. The numbers allow time for a few lame jokes and some amusing audience participation.
In the second act I started thinking, all this needs right now is for the Nicholas Brothers to appear.
Just as I thought that, No Moe busts out a terrific dance number complete with two splits and few back-flips.
Courtney O'Neill's radio inspired set design is a wow. Costume design (Michael Alan Stein) was on point including the guys' conked and pomade hairdos.
Directed by Ron OJ Parson with Associate Director Felicia P. Fields, 'Five Guys Named Moe" couldn't be any "moe" fun.
DETAILS: 'Five Guys Named Moe' is at the Court Theatre, 5535 South Ellis, Chicago (on the University of Chicago Campus, through Oct. 15, 2017. Running time: 2 hours with an intermission. For tickets and other information call (773) 753-4472 and visit Court Theatre.
Guest reviewer: Reno Lovison, RenoWeb.net, is a videographer with a theater and music background.