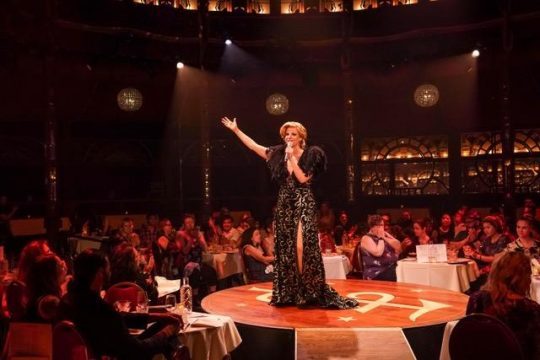 4 stars
You arrive at the 14th floor of the Cambria Hotel to be greeted by a bevy of smiling faces, all of whom are there to happily launch your theatrical experience.
If you've ever been on a cruise ship, you'll understand what awaits you. At the far end of the theatre lobby there's a huge bar, where all manner of beverages await your order, including a complimentary glass of champagne.
Then, with a fanfare, the company of waitstaff announce that the 300+ seat Spiegeltent is now open and ready for your entertainment and dining pleasure. And with that, you're off and running for three hours of nonstop munching, merriment and mayhem.
Seated at one of the linen-covered tables arranged in-the-round on various levels, the audience is waited upon by cheerful, exuberant waitpersons. The delicious, four-course dinner, developed and overseen by "The Goddess," Debbie Sharpe, begins with an appetizer, that already waits at your table.
Your waiter takes your order of entree you prefer (braised beef short ribs, a pasta dish, vegetarian Thai curry, roasted chicken breast or herb roasted salmon); he also records a credit card, in the event you decide to order additional drinks. While you're enjoying your first course, you start to take in your gorgeous surroundings.
Continue reading "'Love, Chaos & Dinner' at Teatro Zinzanni"