"Specimens: Unlocking the Secrets of Life," takes Field Museum visitors behind the scenes in a new exhibit.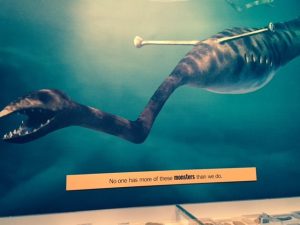 What any scientist knows that few Field visitors grasp as they try to see everything in the museum, is that what's out there is less than one percent of millions of collection items.
But few Field guests get to see some of those items where they are stored or where the curators work.
Therefore, some of those objects, such as a giant clamshell, a very long sawfish snout (rostrum), a few dinosaur bones and some extinct species have been temporarily moved into a main floor exhibit hall accompanied by videos and interactive tables so visitors get to see some of what the Field collects and why.
"Lots of people don't realize that we have collections behind the scenes, let alone collections numbering over 30 million objects," says Director of Exhibitions Jaap Hoogstraten.
The exhibit's videos and a reconstructed curator's office with maps showing locations of water beetles, remind visitors that the Field is way more than a place to see interesting items.
"…the Museum is an active research institution where scientists work and make discoveries based upon these collections," Hoogstraten said.
Some of the specimens reveal chemical and other changes in their environment such as the mercury levels in oceans over time.
Another display shows creatures and plants that lived millions of years ago. It includes fossils from Mason Creek such as the Tully Monster. The area is an exceptional site south of Chicago that was an inland sea about 300 million years ago.
"Museum collections are a way to preserve the past so that we can learn from it in the future," Hoogstraten said.
Details: "Specimens: Unlocking the Secrets of Life"  is at The Field Museum, 1400 S. Lake Shore Drive, March 10, 2017 through Jan. 8, 2018. For admission and other information visit Field or call (312) 922-9410.