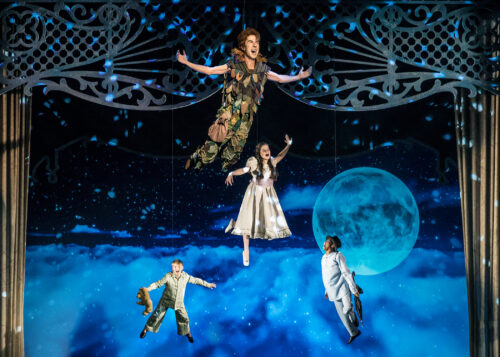 Not a Christmas show
"Peter Pan: A Musical Adventure" taped live at Chicago Shakespeare Theater two years ago, is now streaming live free of charge (donations appreciated) through Jan. 1, 2021.  It is a newly re-mastered recording of the company's 2018 production.
Directed and choreographed by Amber Mak, it delightfully proves that not everything watched this time of year has to have a Christmas or Hanukkah theme. Really good for youngsters ages 8-10, its music, story, aerial choreography and 80-minute run-time, makes it entertaining for all ages. For more information visit Chicago Shakespeare Theater
An extended Christmas show
"Manual Cinema's Christmas Carol," Dicken's moralistic holiday story but with an updated twist, has been extended through Dec. 31, 2020. Originally seen live at specific ticketed times through Dec. 20, the production is now streaming 24/7 through Marquee TV. Tickets are $15.
For Chicago Theater and Arts' review see A broader Christmas Carol message.   For tickets and more information visit Marquee.tv/videos
An annual Chicago live Christmas radio show
American Blues Theater has been doing a live retelling of "It's a wonderful Live: Live from Chicago," for more than 19 years. Patterned after the Frank Capra classic as a 1940s radio broadcast with terrific sound effects, the show is continuing through Jan. 2, 2021. For more information visit AmericanBluesTheater/Wonderful Life.
Jodie Jacobs