HIGHLY RECOMMENDED
The Writers Theatre production of 'Parade, a powerful, Tony Award-winning musical about the wrongful conviction and death of a Jewish factory manager, is so well acted and sung that many audience members seemed to have bought the false witnesses' stories.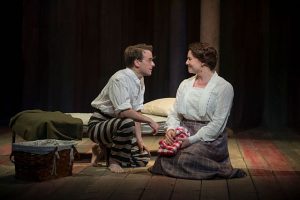 They must have believed the manager was guilty because there were gasps from the show's opening night audience when in the second act the stories turned out to be no more than lies coached by a prosecutor with an eye on the governorship.
The story is a true tale of how Leo Frank, a Brooklyn Jew, is deliberately convicted and killed for the rape and death of a young Atlanta, GA factory girl in 1913.
Although married to a lass Georgia born and bred, Frank was a Yankee and a Jew. He appeared cold and unfriendly and didn't appreciate his wife in the beginning.