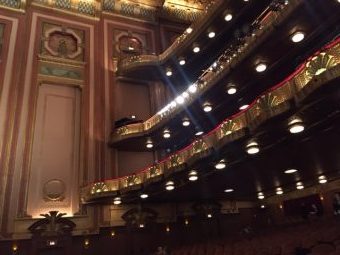 Some of us miss seeing a stage performance in person. Some miss going to the Lyric for a grand opera. Other folks miss visiting Chicago's world class museums. The following opportunities hit these three targets while sitting at home.
Theater
Citadel Theatre has a unique experience scheduled for 6 p.m. May 21. Viewers register for what is called "The Defamation Experience." It begins with a 70 minute film that is a one-act courtroom drama. Then there is the Deliberation. You and your fellow jury members deliberate the case on Zoom to decide the outcome.
After the deliberation and verdict, expert facilitators lead a brief post-show discussion.
Registration is free. A zoom meeting link is provided upon registration.
Opera
Hear and watch an opera segment, lecture or tour the Lyric Opera of Chicago building. The Lyric has a weekly newsletter available on its blog. Here is one aria, many audiences will find familiar.
"La donna è mobile" ("Woman is fickle") is from the fall of 2017 performance of Giuseppe Verdi's Rigoletto featuring Matthew Polenzani as The Duke. It comes in the third act where Maddalena (Zanda Švēde) flirts with the Duke.
For more Lyric gems visit LyricOpera/lately.
Museum
Chicago Mayor Lori Lightfoot has been taking field trips to the city's exceptional institutions so that the rest of us staying home can visit these places virtually.
Each field trip shows up on line on Wednesdays and then on PBS' WTTW on Friday and replayed the following Monday.
This week she visits the National Museum of Mexican Art. To join her go to hitplayChicago. Founded in 1987, the museum is a very special cultural destination in the Pilsen neighborhood.
To see the last two field trips scroll down to the Shedd and the Field Museum.
Jodie Jacobs
Related: Dazzling voices seduced lyric audiences