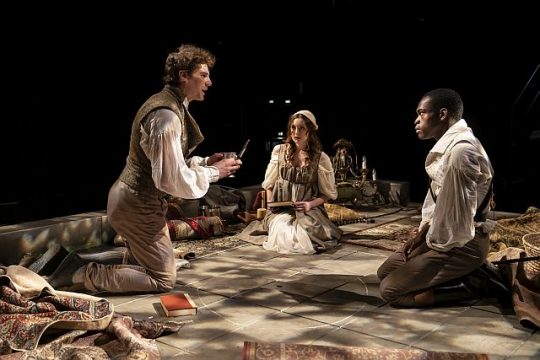 3 stars
To understand director/playwright David Catlin's production of "Mary Shelly's Frankenstein" at Lookingglass Theatre, you probably should go back to the original story conceived during competitive ghost, story-telling sessions at Lord Byron's Swiss Villa Diodati on Lake Geneva.
Eighteen-year-old Mary Godwin was at Byron's retreat with lover Percy Bysshe Shelley whom she would marry after his wife, Harriet, died. Also there, aside from British romantic poet George Gordon Byron (6th Baron Byron), was Godwin's stepsister, Claire Clairmont and Dr. John Polidori.
Mary, using the last name of Shelly before they're married, directs the people at the Villa to join her in playing the characters in her competitive entry. It's a clever devise.
Knowing all parts of her "Frankenstein" novel sahead of time will help explain Lookingglass' opening scene in the arctic where Captain Robert Walton and crew are temporarily iced-in at the North Pole.